Current theme song: "Stressed Out" by Twenty One Pilots
Current stage in process: Writing Book #3; waiting on beta reader comments for Book #2; on submission for Book #1
Things have been crazy lately. We got a new dog (the devil's offspring, ugh), one of my best buddies is moving out of state, work has been hectic to the point I want to pull my hair out, and I got so wrapped up in writing Book #3 that I didn't have time to sit down and read a book to post a review two weeks ago. Yikes! Needless to say, I've been pretty stressed.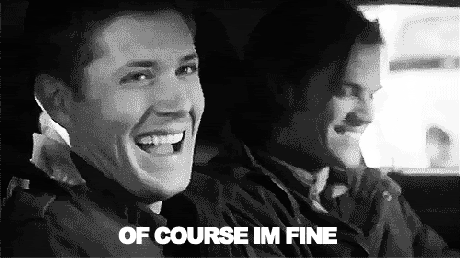 So! Book stuff. Book #3 of my YA series is coming along nicely! I didn't manage to hit my 100,000 word count goal for Camp NaNoWriMo this April but I did win the usual NaNoWriMo goal (50,000) so that's something at least. I'm putting it on a short hiatus right now to give my poor brain a break, what with all the crap that's been going on lately, and reevaluate certain plot lines in the story. Once I've had time to recharge, I'll be jumping right back into it to churn out the second half. So, how does one recharge? Let's just say there will be a lot of books from the library, Pinterest browsing, and a Supernatural marathon.
After I've had a breather, I hope to come back to writing and this blog with new enthusiasm! So, see me then! Changes may be coming.